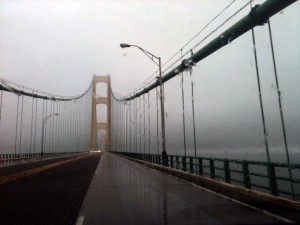 Or is it the Boomerang Woman app? Yes. Back in the Yooperland again. Temps were in the 80s on the Planet Ann Arbor this morning but I knew enough to throw my favo-rite black polartech hoodie into the passenger seat next to me. Because, by the time I got north of Gaylord, the temp had fallen down in into the 50s and it was pouring rain. The rain kept up all the way up to Siberia and still continues. It was a great evening to take The Commander out to dinner at the Palace Saloon for good old south-of-the-border Mexican food and a wee bit o' whine. Er, that border would be the Canadian border… There's a ridiculous little video of that experience posted at facebook if you are on facebook and inclined to view it.
Jeep and Pan say we can expect gale force winds starting sometime tomorrow and Cap'n Hobbs corroborates that, so we will see. Our plan for the moment is to ride the storm out at the moominbeach. We won't be searching around for kayaks and things afterwards. Our boats are all put away now.
And, y'know what? I think today has just caught up with me. 0-skunk-30 walk, coffee with MMCB, work (left at noon), then tangling with the downtown traffic to pick up something from Mouse, and finally bumpety-clunk up the I-75 SUV Speedway to the Yooperland. Got here just about exactly when my newfangled vee-hickle GPS said I would and, wouldn't you know, The Commander had already plotted my route into her iPhone and was able to predict my arrival. Surprised the heck outta the GG that she figgered out how to do that. He thought I had texted her the info or something. I was not surprised. That Commander is quite the cagey one. Palace Saloon for dinner and now Ben Hur is playing on the medium-ass TV here at chez Commander's.
G'night,
KW