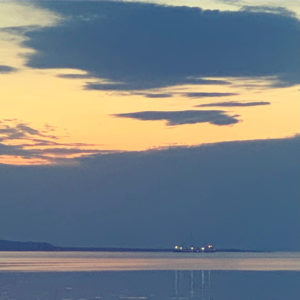 The woman in question was walking the beach and I had just decamped to Bill's Birch Beach Bank Bench. The questioner was a life-long friend. I answered (with a bit of a giggle), "Yes, it's my daughter!" I think my friend remembers my beach urchins as very small very cute tow-headed blonde baby girls. They are still blonde and they are still good-looking but they are 30-something adults and blonde hair is not usually as brilliant on adults unless they get it out of a bottle. Which my daughters (and me) are not interested in. For that and many other reasons I can understand why my adult children don't look familiar to my friend on sight.
For many many many years we didn't encounter too many unfamiliar people walking our beach. In recent years, now that the OTHER end of the beach is accessible, we see more although we are certainly not inundated. If I understand riparian rights law at all (and I think I am shaky on that) it is legal for people to walk along waterways even if the waterfront property is privately owned. Our beach is private but it is certainly walkable and I don't usually question walkers about who they are.
Yesterday was interesting though. When Lizard Breath and I went down to the beach to cool off at the end of her work day (and my slug day), there were two women standing just off our shore with kayaks next to them. In earlier years I might've been a bit perturbed but times are changing and I just gave them a hello and followed my daughter out past the second sandbar to get dunked and COOLED OFF! They were just hanging out there gossiping (yeah, I've been coming up here with "Bill" since 2007). I kinda wish I had introduced myself and talked to them more but for many many many many many years, I would go down to the beach here and be the ONLY person on the beach. Being social to strangers on the beach is new to me.
My childhood friend and I are definitely in in agreement with keeping our families' beach as private as we can for as long as we can. And I felt her relief knowing who "that woman" was. She knows any daughter of mine is an ally 🧡🧡🧡