We're going on an eagle hunt. We're looking for an eagle's nest. It's somewhere between here and Cedar Point. And here we are at the "pond". The one at the Doelle end of the beach.
Now we're rock walking.
I call this "Round Island Point" but some people disagree with me. By the way, this is near where the eagle's nest is. The eagle's nest is huge. There were two baby eagles hanging out on the adjacent tree branches. We think they've fledged but we don't know. The iPhone has a wonderful camera but it isn't really made for wildlife photography. So I do not have a photooo of the eagle's nest.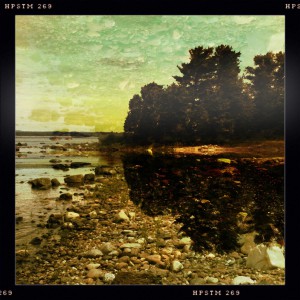 Later on, I did a wee bit of kayaking.
This is my fave spot to sit on the beach.
I like to look up into the trees.
Another kayaker drifts by.
Last and definitely least, Friday was my eighth blahgiversary. Yes, I forgot. Eight years. I never had any aspirations for being a big-time blahgger like Dooce or the Pioneer Woman or whoever. Actually, I didn't even know who Dooce was when I started blathering away on the internet. I am still a small-time blahgger and I am happy about that. I don't check my statistics. Actually, I don't even currently have a way to check my statistics. I guess I will continue to be a small-time blahgger until somebody finally gets fed up and glues my fingers together. When will I run out of boring, incoherent things to say?