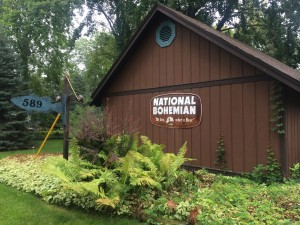 Two steps forward, one step back. In addition to de-hoarding activities, I've been working on traveling lightly the last few years. We used to travel with everything but the kitchen sink. Once back in the Jurassic Age I remember schlepping our big-ass Sony TV up to Houghton Lake in the middle of the winter (among many other things including an Apple II+ and a calculus textbook) in one of our Ford Fiestas. The wind was blowing a gale when we got there and there was a foot of snow or so, so we couldn't drive into the yard until we shoveled, so I carried the damn thing through the snow from the road to the cabin.
Then came the beach urchins and all of the junk that babies need (or so we thought). And about a billion boooooooks because one of the beach urchins couldn't even ride a mile over to the Westgate Kroger without a stack of books and probably some paper and crayons or markers or whatever (and once, an "ebaborant abainment of purses"). I don't know why it seemed like we needed soooooo much. I remember one of the beach urchins piping up in the back of the Exxon Tanker Valdez one time on the way home from nursery school with something like, "I wish we could just take our whole house with us when we go to Houghton Lake." I had this picture in my head of The Landfill floating along in the sky behind the ETV, attached to it by a string. And I sort of understood what she was saying.
Nowadays I pack only what seems absolutely necessary. A small carry-on-style bag for clothing, my Maple Leaf Backpack for my laptop and cables and a few other miscellaneous items that I *keep* in my Maple Leaf Backpack, a couple bags of food, etc. Oh, and sleeping bags. Because part of traveling light is getting as few linens dirty as possible at your destination so as not to have to wash them at The Group Home or schlep them home from (and back to) the Moomincabin. I did good this weekend. I didn't even have a whole lot of food to pack away when we got home because I think that ALL of the chicken I schlepped up there got eaten last night! YAAAYYYY! [insert big grin here!]
Fun fun fun weekend and decent trip home. We took the old highway down from Alger. Alger to Sterling to Standish, then Pinconning, Linwood, and Kawkawlin and back to the I75 SUV Speedway just north of Bay City. I love this route. It was once one of the main routes north on the east side of the state but fell a bit out of favor when I75 finally went all the way through from the tri-city area to Grayling.
This road is a mix of businesses, tourist oriented or not, local or not. Wilson's Cheese, Judy's Pies, The Turkey Roost (I think we went there once with The Gumper back in the Jurassic Age), Iva's Chicken Dinners, Rosie's Pies, John's Hubcaps. The shabbly little closed-and-for-sale Algonac County Baby Pantry, which for some unfathomable reason makes me sad every time I drive by it, even though I know that it has merely moved a few miles down the road from Sterling to Standish. Someday, when I am not driving, I will make a more comprehensive (and accurate) list of businesses on this route. For myself, not necessarily for you guys. Or maybe if it's a *leisurely* trip — one where I am not breaking my neck to get back down (up?) to The Planet Ann Arbor, maybe I'll even stop and take crappy iPhone photos of some of my favorite businesses. Or… Maybe I could make one or two stops each trip. Eventually I'll get enough photos for a coffee table book, roight?
So, only a couple of slowdowns on this trip, one north of and *on* the Zilwaukee Bridge (we took the I675 bypass thru Saginaw and, well, bypassed it) and then tail lights on and off through Flint. We knew about those, or at least the first one, via Google maps. How did we ever get along without all of the technology we have in our lives these days? I was sleepy enough for about three minutes that I almost asked the GG to take over the driving. That is unusual for me and I can't remember what snapped me out of it — probably stopping for gas. Anyway we are home safe and I schlepped over to my fave Plum Market and dinner and laundry are in the hopper. The GG gets to play with his new gas grill tonight. That'll be fun.
G'night. Love y'all,
KW