I cannot believe it was 10 years ago Labor Day weekend that we all traipsed up to the moominbeach to say goodbye to Radical Betty. Actually, I am eight days late. She died September 2, 2009. We had a craaaaazy time getting to and from the moomincabin, picking up people from Metro, dropping vee-hickles here and there to be picked up by other people. My brain spins just thinking about it. So here are some pics from back then.
I had an iPhone then but we did not have wifi at the moomincabin or high-speed cell service on the beach. So. Every morning leading up to Radical Betty's celebration, Uber Kayak Woman and I shlepped our laptops, etc., over to the Green Guy Cafe to catch some of the fast stuff and plan our day. She made coffee and we listened to this, or a version of it (it comes with an ad). Which for some reason fit the occasion. We would then take off in my then-new Ninja to do whatever errands she had cooked up.
Whatever morning this was, the afternoon was bee-yoo-ty-ful but not enough wind to sail so here is UKW towing her son into shore in a sailbote.
These beautiful young cousins of various degrees (Pengy, Mouse, and Robyn) were looking through photos.
I think this was the morning of Betty's memorial. At one point, the sun made some crazy looking sparkles on the water. A little later there were loon calls and a crazy miniature thunderstorm rolled through.
All hands were on deck for cooking duties so I commandeered the charcoal grill for an outdoor chitchen to chop up stuff for lasagne.
People started arriving for our memorial event and here is Radical Betty's (and our) friend Cam, who also died a few months later. With the GG.
The Grinch escorts Otto McNott.
Horsey & Bugs and The Commander. Horsey & Bugs are still kicking.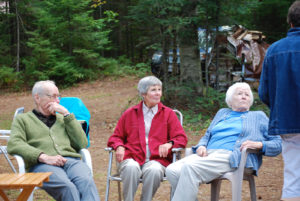 Meta.
UKW plays an mbira.
Mouse commemorates her beloved aunt Radical Betty.
Party's over, time for a beach faaar.
Kayak Woman and Green Guy are crashing out… On one of the most uncomfortable pieces of furniture ever made.
Miss you Radical Betty.