So it is Fathers Day and we were spending it in stellar fashion at the Group Home at Houghton Lake. It was a gorgeous morning an I did my usual 0-skunk-30 walk and the GG was chomping at the bit to go out for breakfast and so we did and then various chores and a little Pontoon Bote ride ensued. And then our Lizard texted us about maybe coming over from Deetroit for Fathers Day? Okay. I am a Road Warrior but I was taaarrred on the way down the I75 SUV Speedway. Sleepier than I wanted to be. If I had been driving alone, I wouldda gotten off and boughten some coffee. As it happened, the GG had taken a wee nap and was able to take over the last 45 miles of driving.
But we got here and so did Liz and she helped us put together a feast tonight and then The Prince of Denmark managed to squeak home from rehearsal in time to help us eat it. I bought a LOT of food and there'll be leftovers for all the next couple of days. Here are some Fathers Day pics, lightly commentated.
My dad with his 1st and 3rd grandaughters (Liz and Mouse), late 1987 or so.
If I tried hard enough, I could probably find a pic of Grandpa Garth, aka the Gumper, with his 12th and 13th granddaughters, aka his little chickies. I'm not gonna bother with that but he was a wonderful grandpa to my daughters but I would rather post this fish pic.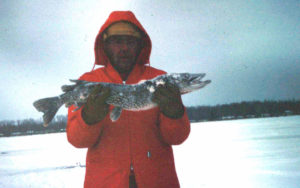 Here is my old coot threatening me with his walking stick. I was his favorite daughter. Also his only daughter.
From there, here is the old coot skiing.
>
At two or three.
With his sister, my aunt Radical Betty (one of my best friends in life) at Penny's Kitchen.
Sitting on the beach with The Commander and Bob.
And finally my parents building an outhouse back when I was six or so.
Happy father's day and g'night. KW